Motorola Moto E6 has just arrived. It has brilliant specs to look at. We have reviewed the latest Moto E6 just for you. Should you buy the new Moto E6? Take a close look at the specifications it gets.
Design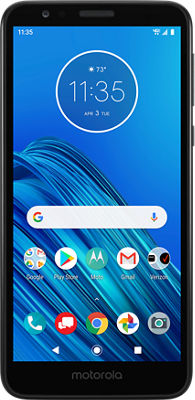 The design of Moto E6 is not premium looking at all. It is made of plastic. Good thing of plastic is you will not break it easily. Two colors available for this phone: Starry Black and Navy Blue.
The look of the smartphone reminds of a cheap budget phone. It's small in hands. So, You will find it comfortable having it in your hands
Display
It has a 5.5-inch screen, HD+ display. The saddest part is that it is 720p. Who would buy a 720p display phone in these days? May be Motorola tries to cut off the price by making the sacrifice?
The LCD screen may look dim in some cases. Obviously there are brighter screen phones out there. It has an 18:9 aspect ratio display which is standard across most phones in this price range. We can say it is a good budget phone. But, we have better budget phone option out there in the market.
Performance of Moto E6
It is powered by a Qualcomm Snapdragon 435. It has 2GB Ram. 2GB Ram phones don't perform well when it comes to heavy usage. So, it is not a good sign at all. The Snapdragon 435 is not as powerful as 439. I am not expecting too much about the performance.
Moto G7 play outplays this phone in many areas. Motorola should make more Snapdragon 600-series powered phones. It will make the phone much better In terms of performance and speed. Moto G7 play has 32GB storage. The E6 moto has only 16GB. Not more space for your photos and videos.
Camera
The E6 has a 13MP rear camera. It comes with f/2.0 aperture. It has some camera features like Motorola's color-isolating black-and-white photo mode. The front-facing camera is 5MP but with a f2.0 aperture.
Battery
The Moto E6 comes with a 3000 mAh battery. E5 has bigger battery of 4000 mAh. It may be a heck of a headache for heavy users.
Water resistivity, USB Type C
USB-C is in almost every phone. But, this phone has no USB-C. It has micro usb port for charging. Motorola has not kept their promise to bring support to the affordable Moto E6. The Nokia 3.1 Plus has USB-C and it has a similar price range.
Moto E6 has not water-resistivity. It has a "P2i nano coating. It keeps the phone safe from water splashes.
Pricing
The phone is priced at $149. It has become available on Verizon for now, but it will be available on other carriers says Motorola. An unlocked phone could come too.
The phone is running android 9.0 pie. If you want a cheap budget phone, there's the Samsung Galaxy J3 ($168). But, the Moto E6 is an easy pick. Those phones have outdated Android OS (version 8.0) .
Summery
The Moto E6 is good. It is good because of its price. Buy I highly recommend you buy Moto G7 play.
Motorola's G7 Play is better than Moto E6. But, you should wait for new good phones to come. At least for next Moto phone.